MITCHELL GLASS CONSERVATORIES
Add value and space to your home in Scotland with a custom-made conservatory from Mitchell Glass. Choose from our full range of conservatories available in UPVC, Timber Hardwood and Aluminium. Established in 1875 – Mitchell Glass offer a professional conservatory installation service, including building works, joinery, electrics and all plumbing requirements for all conservatory designs. You can sit back and relax while we use our skills & experience to design and install a conservatory that complements both your lifestyle and home.
Stunning yet sympathetic to the existing property...
Mitchell Glass is a leading conservatory company with over 100 years experience in designing and installing a range of UPVC conservatory designs. UPVC Conservatories are ideally suited for modern or traditional homes in Scotland.
Our UPVC Conservatories offer the ultimate in flexibility and choice. Whether you desire something simple or intricate our experienced conservatory designers will be able to guide you through the whole process – creating the perfect UPVC Conservatory for your home.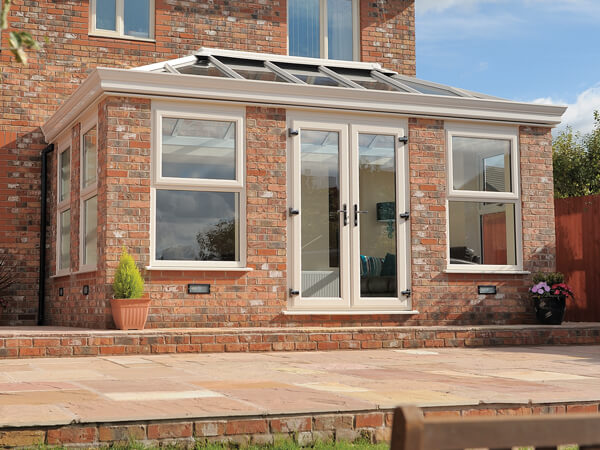 The strength of aluminium is its true feature. Less is more.
You need less material to achieve the conservatory style of your choice, which means more light into your new room. Aluminium conservatories are also incredibly low maintenance and thermally efficient making them a perfect addition to most properties.
Mitchell Glass are able to offer homeowners a variety of bespoke aluminium conservatory designs, suitable for almost every type of Scottish property. We are able to complete every step of the installation from the very first design meeting right through to the plastering and electrics so you don't have to rely on anyone else to get the work done.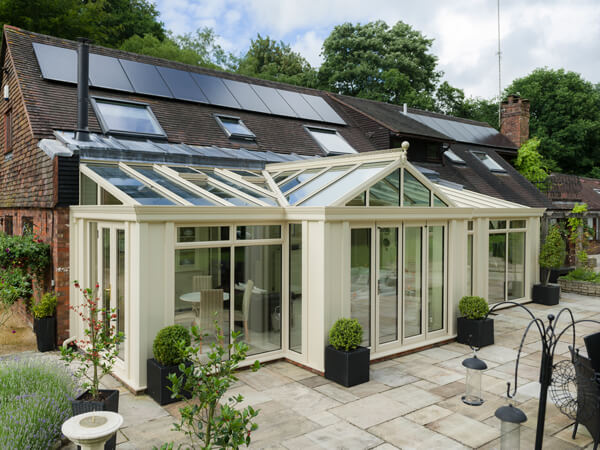 Timber is perfect for bespoke conservatory designs in Traditional Georgian, Edwardian and Victorian styles.
The natural beauty of timber only serves to enhance your chosen conservatory style and the transition between home and garden becomes almost seamless. We only use timber from well managed sources and it can be supplied in a variety of finishes.
Mitchell Glass project manage your full timber conservatory installation for you, from dealing with all official Local Authority paperwork, to co-ordinating additional trades such as heating engineers and electricians from our highly professional craftsman.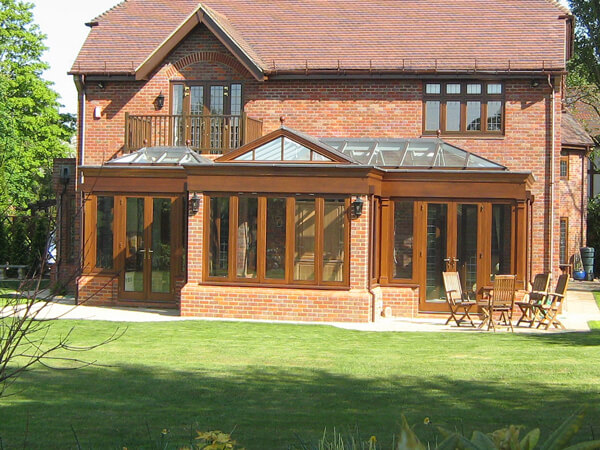 Get the added space you've always craved
The versatility of a conservatory is something that singles out a conservatory from any other form of home extension. It can be specified in any way, and you can have whatever size you want, as well as getting a conservatory fitted at practically any home location. This demonstrates that there are no limits to what you can do, whether you desire a quiet setting for relaxation or want to expand an existing space.
Multiple conservatory styles are available and they can all be finished and accessorised in so many ways. Mitchell Glass will do whatever it takes to give you a conservatory that ticks every box.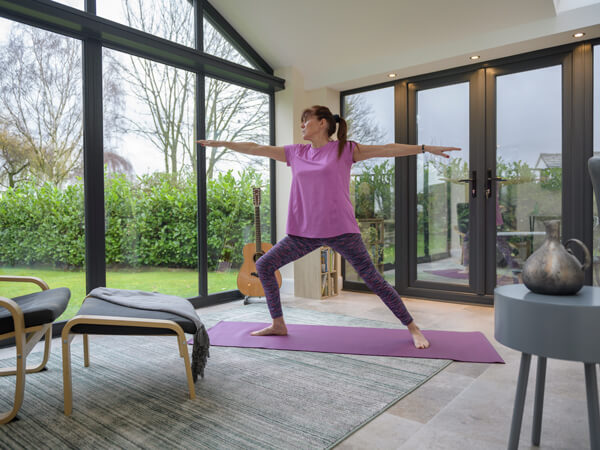 CONSERVATORY FINISHES
Choose from our full range of classic conservatories available in UPVC, Timber Hardwood and Aluminium. Beautifully designed and created with a long life in mind, classic conservatories possess all the positives homeowners need from a conservatory and more.
Traditional UPVC offers low maintenance...
A huge number of the conservatory designs you come across will have been crafted from UPVC as has generally been the case over the past 20-30 years and it comes as no surprise as UPVC is a highly rigid and reliable material. It is also immensely good at holding off weathering and its performance in terms of thermal efficiency is supremely good. You won't even have to give it a clean which gives you more time to just relax and enjoy it.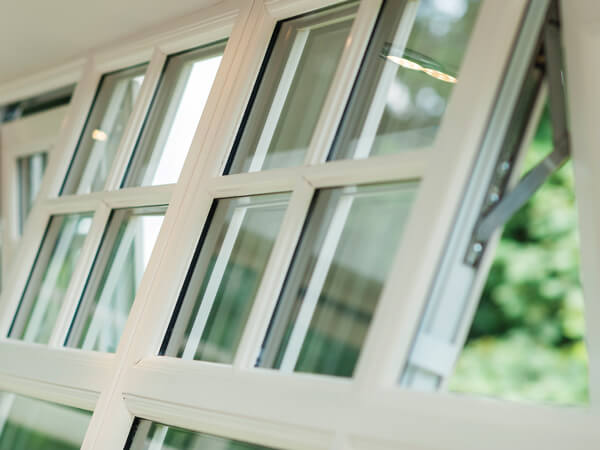 The coloured UPVC conservatory you always wanted is here...
You want your new conservatory to look as at a home at your property as everything else so it is crucial that you choose to have it finished in a colour that allows it to blend in easily. Luckily Mitchell Glass has an extremely broad colour palette for you to ponder with a range of finishes incorporating solutions such as Light Oak, Cream, Whitegrain, Green and Grey. Traditional White is always a safe bet too.
Aluminium offers maximum glass areas...
The toughness of aluminium has to be felt to be fully appreciated which makes it all the more surprising that it is so easily moulded and shaped. It's for this reason that aluminium conservatories have rose in popularity in recent times as it can be utilised to create structures of all shapes and sizes and has the durability required to protect you from the elements. This is the conservatory material for you if gaining exposure to plenty natural sunlight is one of your primary objectives.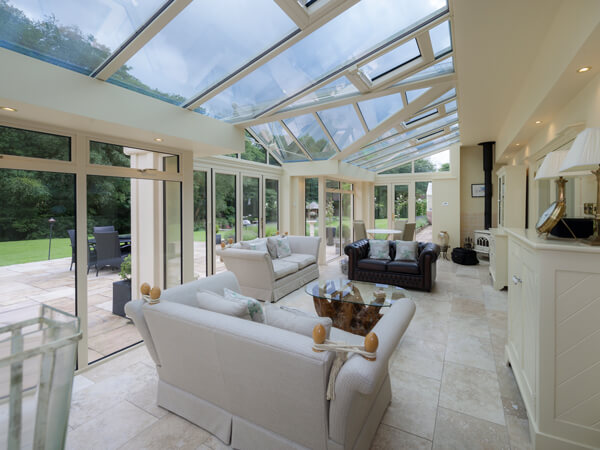 A virtual rainbow of colour...
Our aluminium colours only look so good because they undergo a thorough 11 stage powder-coating process beforehand so that when they are applied to the aluminium frame they really stand out and capture the eye. Many people still have adulation for timber and we've taken that on-board by also producing a number of timber-effect finishes in Rich Oak, Rosewood and Walnut. They have come to fruition thanks to a process called sublimation.
Everyone loves the look of timber, how could you not?
The natural beauty of timber only serves to enhance your chosen conservatory style. Using the highest grade of materials we can help you select a hardwood to match your requirements from Meranti, Oak, Sapele or any preferred choice.
Each timber has its own character and benefits. You have the choice of a fully painted finish in any colour of your choice using micro porous paint to help the timber breath or from a selection of stains to allow the beauty of the timber to show through.
Our fabulous range of colours will fully complement and truly enhance your timber conservatory...
Mitchell Glass offer a great range of 30 colour options including limstone, sage green, habour blue, through to granite, light oak and black and much more, creating the ultimate style statement for your timber conservatory.
In addition to our popular range, we can create or match any RAL colour of your choosing.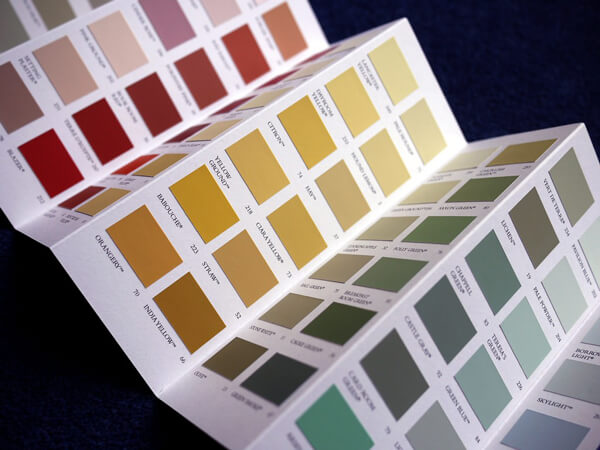 A safe and secure investment
You don't want to be worrying about the security of your conservatory, not when you've spent so much money on it. Thankfully, you won't need to as our conservatories are super-secure and you're given a great guarantee to prove it.
Please, read the guarantee. It mentions that some small remedial adjustments may be necessary in the future to ensure that the conservatory offers sufficient security and lasts for as long as it's meant to.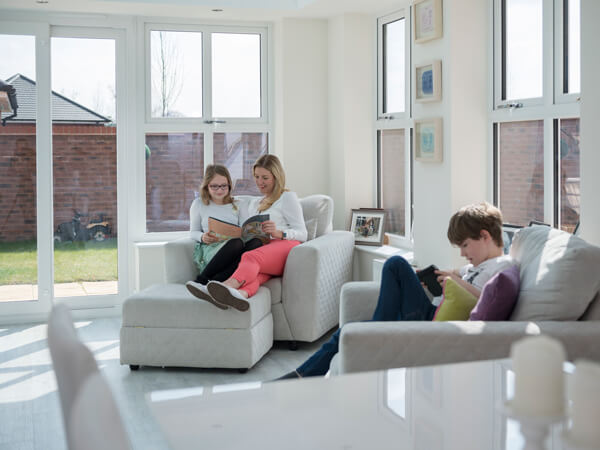 ADD THOSE FINISHING TOUCHES
Our designers will be enthusiastic about helping you create a conservatory that satisfies your every need. Don't be shy to talk to them. It can be helpful if prior to meeting a designer you take some measurements and photographs so that they can get a full understanding of what you want. Using this information, they can make a start on realising your vision.
Our glass roof conservatories are outstanding
Mitchell Glass has long-standing experience in designing and fitting conservatories, so you're promised a glass roof conservatory of the very finest quality. It will have the perfect atmosphere inside throughout the entire year, no matter if you opt for a classic or contemporary glass roof design.
Often, a customer will already have envisaged how their glass conservatory will look, so that's why we have no problem in letting you inform the design.
Because there are so many options on the table, you can realise the glass roof conservatory you have dreamt up in your mind and make it totally unique.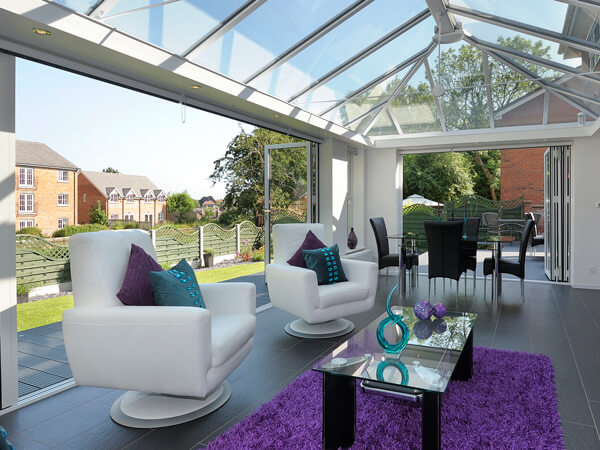 A variety of glazing options are available
The roof is integral to the overall performance of a glass roof conservatory and we have a wide selection of roofing options on offer, all backed up by a fantastic guarantee.
Our roofing systems will insulate the space so that you can use it in comfort, whatever the weather.
A tiled roof conservatory is something that no other roof can match
Sometimes using your conservatory is all about getting away from things and having a little time on your own or with those closest to you. It's nice to have a little bit of privacy when stretched out inside and you can give yourself extra privacy by asking that a solid roof be fitted to your conservatory design.
The presence of a solid roof will result in the loss of some natural light but this can easily be overcome with the inclusion of roof windows and integrated spotlights.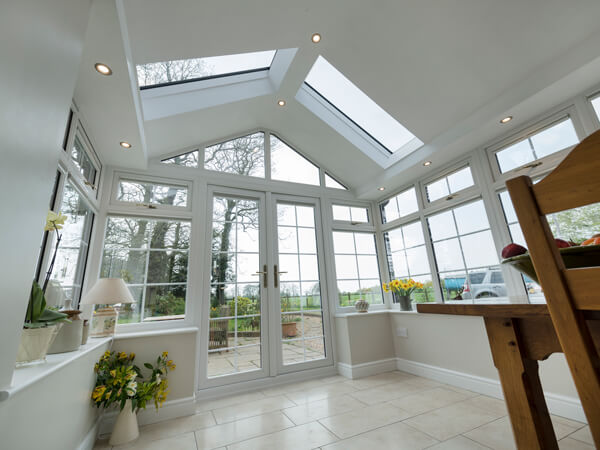 Two tile types to pick from
Our tiled roof system is incredibly light, far lighter than any traditional conservatory roofing system, perfect for any conservatory or orangery.
Well-suited to low-pitched roofs, our lightweight slates are a fantastic modern alternative to traditional slates, and will be a timeless addition.
NEED MORE INSPIRATION? REQUEST A BROCHURE
Simply select the brochure(s) you would like to browse, fill in your details, and then click 'Download'.
Step 1 - Please select the brochure(s) you would like:
OUR FINANCE CALCULATOR
See how affordable your home improvement can be with our Finance Calculator.
INSPIRED? GET A FREE QUOTE TODAY!
Simply fill in your details for your free, no obligation quotation, and click "Get Quote"
Want to speak with an Advisor? Give us a call on 0800 220 415
Our friendly team will be pleased to help with any questions you may have.
We're just around the corner, find out more…