MITCHELL GLASS BI-FOLD DOORS
They can be used in a variety of situations to transform your living space. When installed between your conservatory and home our range of Bi-fold doors turn two rooms into one. Our Bi-fold doors are fully bespoke and individually made to suit your requirements. They can be made to reach 2500mm in height and any width can be accommodated between 1400mm to 6000mm.
Add to the wow factor of an aluminium bi-fold door with your choice of colour...
Our standard colour palette for bi-fold doors includes three extremely popular and timeless options: gloss white, matt grey and matt black. Grey in particular is a firm favourite for homeowners investing in bi-fold doors – it is sophisticated and contemporary, therefore complementing the sleek operation of the product.
A much broader selection is available but the common denominator of all of our colour options is a low maintenance, durable finish that will retain its appeal for years to come.
Our fabulous range of colours will fully complement and truly enhance your timber bi-fold doors...
Mitchell Glass offer a great range of 30 colour options including limstone, sage green, habour blue, through to granite, light oak and black and much more, creating the ultimate style statement for your timber bi-folds.
In addition to our popular range, we can create or match any RAL colour of your choosing.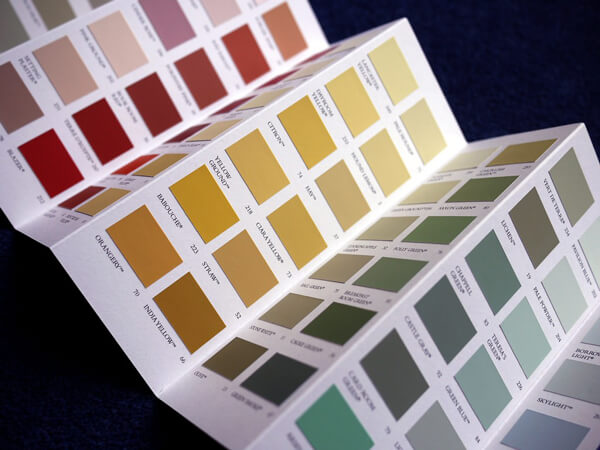 Choose from an array of UPVC colours...
The external face of a bi-fold door must complement the external architectural features of your property, and the inside face must complement the internal décor of the room in which it is fitted – one colour may not necessarily suffice so you may want to consider a dual colour bi-fold door which, as the name suggests, is one colour on the inside and a different colour on the outside. A very popular example of this is 'grey-on-white' – matt grey on the outside, and gloss white on the inside to match skirting board, architraves and neutrally decorated rooms. Likewise, you colour opt for a woodgrain finish on-white so that the external woodgrain face of the door is more in tune with the plants, trees and wildlife in your garden.
Bi-fold doors can be fitted to the main part of a property in the same way that sliding patio and double French doors are often used. Internal space may be at a premium so the door can be manufactured to 'open out' which, as the name suggests, means that when the door panes concertina they group on the outside. However, if you'd rather and space allows, the same door can also be made to 'open-in'.
Living rooms and kitchens are the two most common rooms to be augmented by a bi-fold but, equally, these doors have been used at particularly luxurious properties as a grand way to access first floor balconies.
THE INTELLIGENT DOOR SOLUTION
From the moment you have informed us of what coloured finish, glazing and hardware you would like for your new bi-folding doors, work will begin on designing and manufacturing them.
Features of our Bi-Fold Doors
It only takes the very gentlest of pushes to manoeuvre our bi-folding doors open as they're made from lightweight materials and promise to effortlessly glide across the tracking system.
To find out more about our aluminium bi-folding doors, just click on each of the individual hotspots.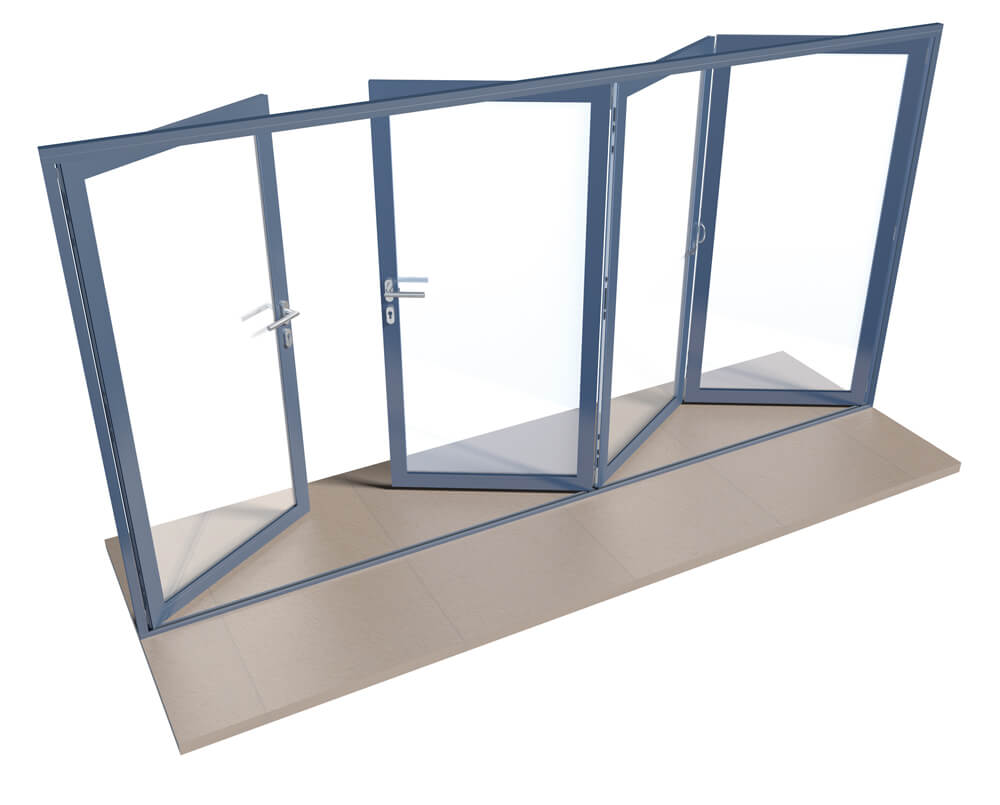 Bi-Fold Frame
Our Bi-Fold frames boast maximum warmth and security and slide effortlessly to the side to make the most of your space. You can even incorporate a discreet passenger door for everyday entry.
Bi-Fold hardware
Our Bi-Fold Door Handles come in a range of colours to suit your home, they're built to last with robust materials and quality finishes.
Bi-Fold Easy Glide System
The sliding operation of a bi-folding door relies on a high-quality stainless-steel track on which quad rollers, which are fitted to the door leafs, glide along in elegant fashion. The same quad rollers are fitted with a small brush on one end to keep the tracks free of dust and dirt.
Bi-Fold Low Threshold
Low level thresholds increase the ease of access for everyone involved. An optional outer and inner ramp can be added on to the threshold to further enhance the accessibility for wheelchair users.
A bi-fold door will create one unique, open plan space
After a few minutes of operating a set of Bi-Folding doors you will realise just how clever a design it is as the way the individual leafs so easily fold and slide is enough to leave you spellbound.
Particularly when operating an aluminium-based version of these extraordinary doors as you could easily expect them to be difficult to manoeuvre when they're actually the exact opposite. There's very little weight to them which makes them all the more special.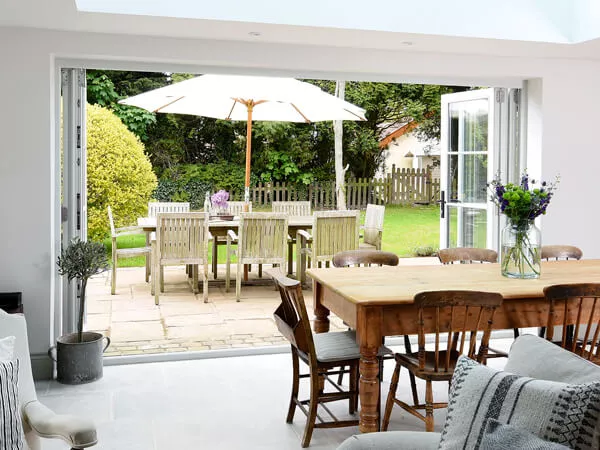 Bi-fold doors can be made with as few as two panes.
With all bi-fold doors, configurations can be manufactured in arrange of sizes, colours and configurations. This minimalist style of bi-fold door could be used internally to connect a room with an orangery or conservatory, or you go choose from our 7 panel bi-fold door to create a large opening to your garden.
The handle is a crucial feature of the bi-folding door…
Traditional Handles - Our traditional all-in-one handles have a very understated look, but they certainly won't go unnoticed, and they are available in chrome, gold, black and white, enabling you to choose a coloured handle that matches any existing window and door hardware. The same colour options are available if you want intermediate and D-handles for your bi-folding door that you can also colour-match to hardware elsewhere around the house.
Contemporary Handles - The incredibly sophisticated styling of our modern, two-part handles is down to the brushed steel finish, and the separate escutcheon plate encased within the cylinder lock. There are three variations of the handle, and each of them is unique from one another. When selecting a contemporary master handle, it's advisable to pair them with suited brushed steel intermediate and D-handles.
NEED MORE INSPIRATION? REQUEST A BROCHURE
Simply select the brochure(s) you would like to browse, fill in your details, and then click 'Download'.
Step 1 - Please select the brochure(s) you would like:
OUR FINANCE CALCULATOR
See how affordable your home improvement can be with our Finance Calculator.
INSPIRED? GET A FREE QUOTE TODAY!
Simply fill in your details for your free, no obligation quotation, and click "Get Quote"
Want to speak with an Advisor? Give us a call on 0800 220 415
Our friendly team will be pleased to help with any questions you may have.